Not only the athletes needs to be provided with food and drinks, but of course the volunteers as well. On the Esplanade there is a location and outdoor area especially for all volunteers, also called the volunteer area. Here all volunteers can go for food and drinks during the event and from here all volunteers who are not able to come to the tent will be provided with food and drinks. There are volunteer tasks for people who like to provide the other volunteers with food and drink during their breaks.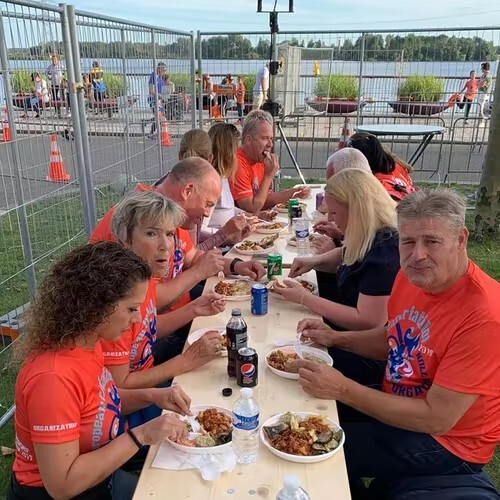 Providing food (lunch and dinner) and drinks (coffee, tea, water, soft drinks) for all volunteers, both in the tent and on the course, the Esplanade and in the theatre (Kunstlinie Almere Flevoland).
Maintaining and replenishing food and drink stocks
Preparing, dispensing and clearing buffets
Checking and keeping the tent, event site and toilets tidy and making sure that this is also taking care of by the volunteers.